Why Consider Leasing Cows?
Leasing cows can provide dairy farmers with multiple benefits that traditional financing is not able to match.



Increases cash flow and income


If dairies have feed, labor and additional cow capacity, they can increase their cash flow and income with minimal added capital. Leased dairy cows can pay for themselves while increasing cash flow.

Profitability Chart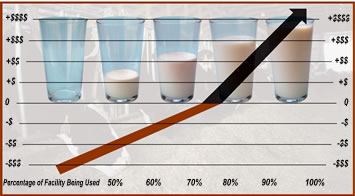 Because fixed costs have already been met, the last cows to fill up a dairy become the most profitable part of the operation.
Additional financial leverage


Through leasing, dairies gain additional financial leverage to maximize the size and profit of their operations. If a dairy is not operating at maximum capacity, it is missing out on the most profitable piece of its business!
Conserves working capital
Leasing frees up precious capital for other necessities on the farm or for unexpected emergencies.
Keeps credit availability intact
Bank credit lines are not affected by leasing, so dairies are able to retain their bank borrowing capacity for other needs.
May provide tax savings
In many cases, monthly lease payments are fully tax deductible as an operating expense. This savings results in a lower after-tax cost of cows. Consult your tax advisor for how this could apply to your situation.
Faster return on investment
Income from milk production of leased cows often will be in excess of the monthly lease payment in the first month, thereby providing an immediate return on investment.

Fixed lease payments
In times when many financing transactions have floating interest rates, monthly lease payments remain the same for the life of the lease.
Easier cash flow forecasting
Leasing helps a dairy farmer plan a monthly lease payment into their budget because payments are fixed.
Quick & easy process
The Sunrise Group makes the lease process simple and fast, so you can put milk in your bulk tank in short order.